The necessity for fake flowers in our homes has never been more evident. Our lives are hectic, and as much as we adore the idea of beautiful blooms and vibrant plants brightening up our homes, the actual task of maintaining these plants and flowers can be very difficult. Life is a blur of activity, and our schedules are so full that it frequently takes us a while to care for the plants in our homes.
But the desire to be surrounded by green spaces and the beauty of blooms that never fade is undisputed. Plants and artificial blooms enable us to incorporate nature's beauty into our homes without the need for continuous upkeep and maintenance. They provide a great solution for those who want to experience natural beauty but have limited time.
If you're one who would like a bit of floral splendor and greenery at home, we'll take a look at the best artificial flowers that you can use for decoration. These gorgeous pieces from Elen can not only bring freshness into your living spaces but will also inspire you to embrace the concept of green décor.
Artificial Celosia Flower Stick (92 cm)
The synthetic Celosia flowers are an excellent choice for those seeking to add a splash of color and a dash of whimsy to their décor. With its vibrant color and distinctive design, it's ideal for modern as well as traditional interiors. This stick can be easily used to create your own arrangement.
Artificial Sunflower with 5 heads (3.3 feet)
Not many people are untouched by the beauty and sophisticated charm of sunflowers. Artificial sunflowers are an emblem of warmth and positive energy. This realistic creation featuring five heads will bring a smile to any room of your home. It's an ideal addition to your summer décor.
Artificial Velvet Rose Flower (Single Stem, 3 Buds)
The rose is timeless, and this rose, with its luxurious appearance and three buds, is a masterpiece of elegance. The velvet fabric gives a silky and smooth appearance to the overall set and the bunch can challenge a natural set of roses. Set it in a slim vase to make a centerpiece that oozes romance.
Artificial Frangipani Flower (Single Stem)
Firangipani are usually found in tropical regions. These flowers invoke the feel of a tropical oasis. The single stem will take you to a tranquil beach by its natural appearance and sensation. If you also love tropical warmth in your home, visit Elen. These single stem frangipani are available in several colors.
Artificial Cherry Blossoms Flower Stick (100 cm)
Do you want to have a Japanese feel in your coastal and tropical home? Japan is famous for its cherry blossoms. These cherry blossoms from Elen will remind you of beautiful Japanese islands. They symbolize the fragile beauty of the world. This artificial rendition is a perfect representation of the delicate beauty of the blossoms, which makes it an ideal decoration for your home.
Artificial Orchid Flower (Single Stem, 70cm)
Orchids represent sophistication and elegance. They represent several cultural symbolism in different parts of the world. The single stem orchid is an elegant accent to your décor that adds a touch of exotic beauty.
Artificial Gypso Bunch to decorate (30 millimeters)
Gypso, often referred to as baby's breath, is a delicate filler that can add a touch of freshness to any floral arrangement. Or you can simply add a bunch of these to create your own delicate looking and sombre flower arrangement. This flower is ideal to add a touch of elegance to your décor.
Artificial Mum Flower Bunch of 5 heads
Mums and their vivid flowers are a symbol of joy. This collection of five heads is ideal to add a splash of color to any home. At elen, you can find a number of shades of this flower. You can pick one that suits your decor the best. 
Artificial Clematis Florida Flower (40 cm)
Clematis flowers are renowned for their unique shape and vibrant shades. This synthetic version is an exquisite depiction of this beautiful flower that is perfect for bringing style to your living areas.Explore perfect looking artificial clematis at elen.
Artificial Anthurium Bunch Flower (35 cm)
Anthuriums are renowned for their distinctive heart-shaped flowers. These heart shaped flowers are known for their dictinctive charm and appeal. This artificial bouquet is an eye-catching design element and will give it an artistic and contemporary look.
Artificial Lily Flower arrangement with pot for decoration
Lilies are a symbol of purity and character. Lillies signify joy and abundance. This artificial arrangement in an urn is a perfect decorative piece that can bring the perfect touch of class in your living space. Check out Elen's yellow Lilly arrangement.
Artificial Mum Flower Arrangement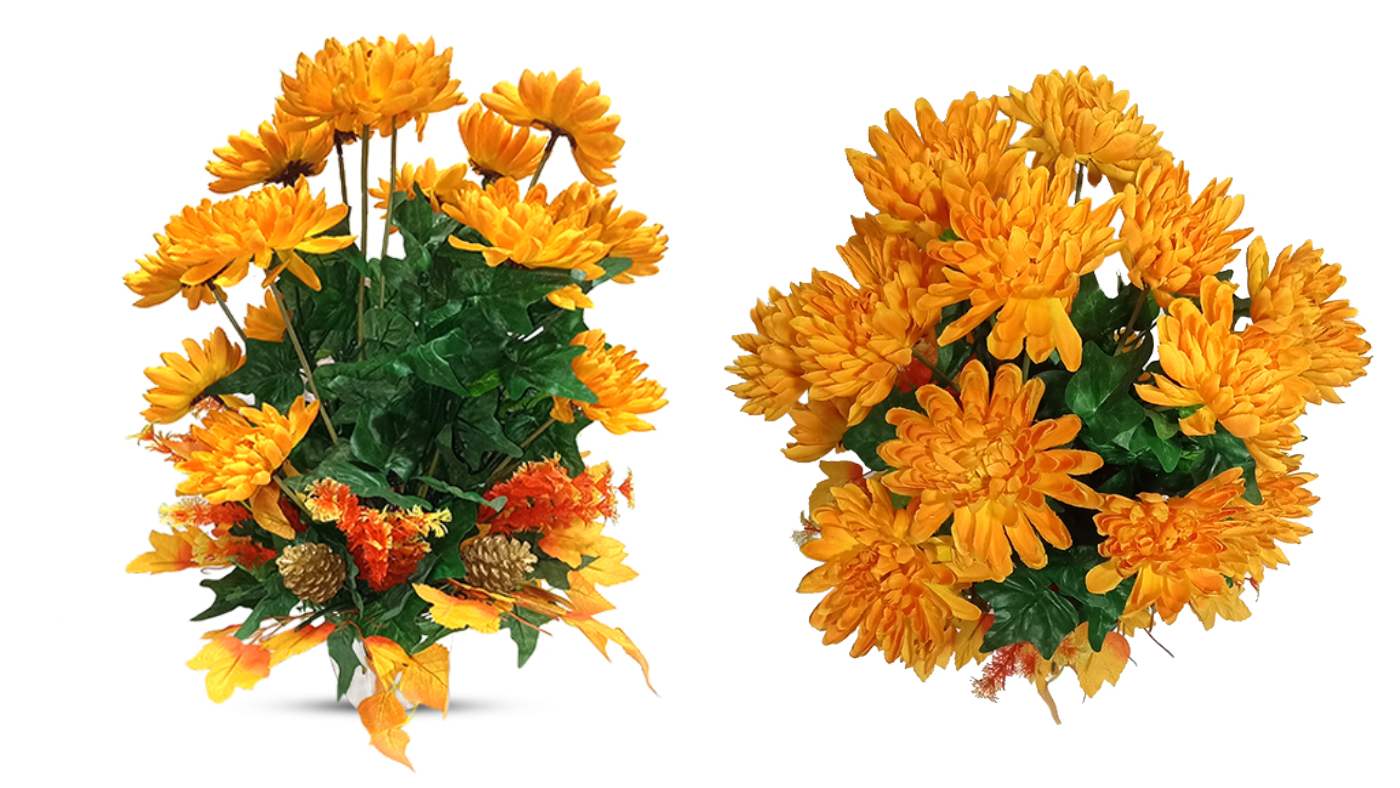 Mums, adorned with bright flowers, are a symbol of happiness. This arrangement is ideal to create the focal point of your home decor with a positive and joyful vibe. The range of colors available at Elen allows you to choose one as per your linking and decor arrangement.
Bougainvillea Hanging in a Metal Pot (45 cm)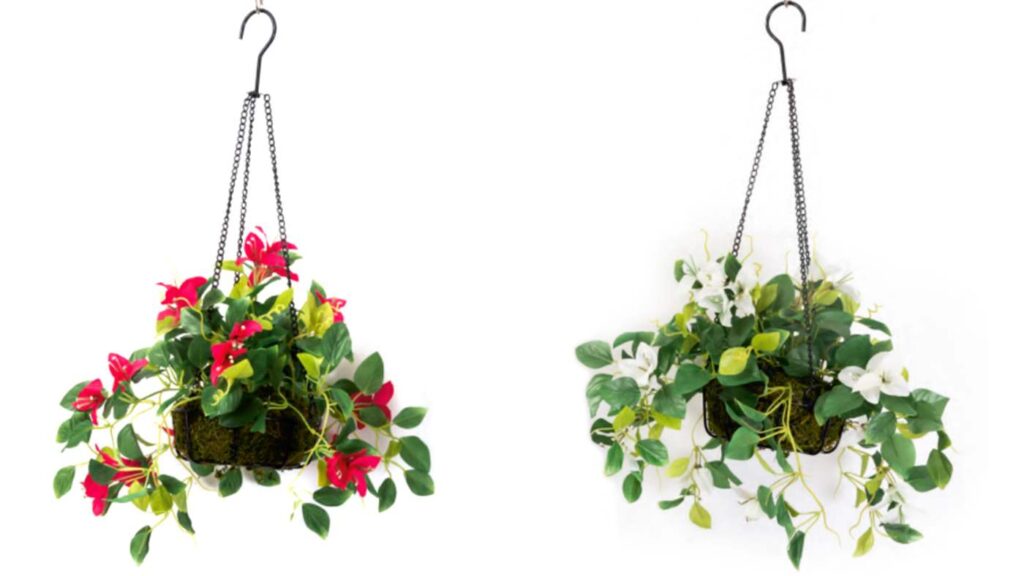 I remember having a natural Bougainvillea wall in my grandfather's garden. That wall used to be my favorite spot to click pictures or have morning coffee or evening snacks. Hanging arrangements are an innovative way to include greenery in your homes. This Bougainvillea in a metallic pot is a chic accent to your home decor and adds a touch of the natural world from above.
Artificial Rose Flower (Loose Head)
Traditional roses hold the undisputed crown of favorite flowers of the world. Roses symbolize love, care, and affection. The traditional rose, but with no thorns. These loose rose heads can be used to create your own bouquets, adding an elegant touch to your décor.
Artificial Wisteria Hanging Flower
I absolutely love wisteria. Hanging and sculpted wisterias have a certain rustic and romantic appeal.  Wisteria is renowned for its cascading beauty. Artificial hanging wisteria can add an element of magic to your home decor and is ideal for creating a fun atmosphere.
The incorporation of faux flowers, plants, and even artificial ones into your decor is a simple method to bring nature's beauty inside. This not only helps you save time, but it also ensures your home is always attractive and fresh. There are a lot of options to choose from, and, with a little imagination, you can turn your living space into a beautiful green space you are proud to display.
If you're motivated to add a bit of floral splendor and greenery to your house, Elen is your ultimate destination for artificial flowers that can be used for decoration