Are You Deciding Between Real or Artificial Grass for Your Backyard? 
Artificial grass (also referred to as synthetic turf) is a surface designed to look like natural grass. It is made up of synthetic fibers such as polypropylene or polyethylene.
These fibres are then tufted into backing material for extra strength and stability. Sometimes, they may also be blended with sand or rubber particles for additional support and stability.
Artificial grass is extensively used for both commercial properties, residential lawns, public parks and sports fields such as soccer, football and baseball fields as well as playgrounds or other recreation spaces.
This article will help you in deciding whether artificial grass will be a good option for you. Take a look at 10 Artificial Grass Pros and Cons Everyone Should Consider mentioned below and make an informed decision. 
Artificial Grass Advantages
Synthetic grass offers many advantages over natural grass. It has been specifically developed to surpass the features of its organic counterpart so that people can have a better alternative.
Little To No Maintenance
Real grass needs frequent watering and weeding (and sometimes fertilization), which can rack up the bill for both your utility provider and gardener. 
Artificial turf doesn't need any TLC – making it ideal for landscapes with lower water requirements as well as areas experiencing drought conditions. 
Also, synthetic turf eliminates concerns of having to mow your lawn frequently and cleaning up stains from clothing like real grass does, saving both time and effort.
Moreover, there will also be no burrowers digging up your lawn.
Artificial Turf Is Good For Trampolines
Grass that doesn't get enough sunlight is likely to die over time. Synthetic turf makes an excellent solution for trampolines that don't receive as much sun. 
Furthermore, installing synthetic grass in areas with steep grades in your yard where it may be difficult or impossible to mow or weed regularly are an ideal way to keep up with maintenance of these spaces. 
Talk to local turf companies regarding synthetic turf installation here.
Always Looks Green and Healthy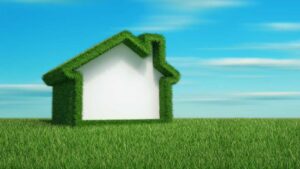 Natural grass may sometimes develop brown patches and discolorations, while artificial grass always appears clean and green.
With no gaps between each blade of grass, artificial turf never looks dirty and excessively long.
More Economical Over Time
Artificial grass costs a fortune initially for materials and installation, yet requires far less in terms of ongoing maintenance expenses due to not needing watering, weeding or fertilizing services.
This results in virtually zero operational expenses associated with maintaining artificial turf surfaces.
Constantly Usable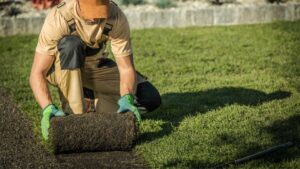 Seeded grass lawns can quickly become slippery and damaged after heavy rainstorms. In contrast, synthetic turf dries quickly after being exposed to rainwater, making it an ideal playground every day.
Plus, it also doesn't require spray of insecticides and fertilizers over it regularly! It will always be suitable for playing on.
Durable 
Artificial grass of high-quality will last between 20 and 25 years with proper care, so any damaged patches can easily be replaced. And that amount of time is enough for the kind of investment artificial turf demands.
Offers Variety
Choose from an extensive range of shades, textures, and blade lengths to personalize your lawn experience.
Artificial Grass Disadvantages
Expensive To Install
Synthetic grass can be more expensive to install compared to natural grass. It requires you to make an initial investment upfront.
Gets Hot In The Summer
As synthetic grass absorbs heat, it may become extremely sweaty and uncomfortable to walk on in hotter climates. 
If you have artificial grass surrounding your swimming pool, wash it off prior to walking on it and plant trees as a means of shading it from direct sunlight.
May Cause Mediclal Issues
Artificial turf can be described as a petroleum-based item. What it means is that its chemicals can release gases and add to the dangerous pollutants into the air.
These harmful gases can result in asthma attacks, reduced development in children and reduction in the quality of air in the surrounding area. 
Not Eco-Friendly
While some artificial turf manufacturers construct artificial lawns using recyclable material (like recycled tires, plastic bottles or old tires), it is ultimately non-biodegradable and is going to end up in the landfill sooner or later.
Water that runs off of synthetic lawn can bring contaminants to local water sources.
Can Trap Bacteria
Unfortunately, artificial grass can become a breeding ground for harmful bacteria as it can trap skin, blood and animal waste. 
If you own pets, regularly dispose of dog urine off artificial grass to ensure it remains clean in your home.
Still Vulnerable To Damage
Artificial grass that is placed in an area receiving direct sunlight will deteriorate quickly over time, especially if placed near desert areas with high UV levels.
Conclusion
As with anything, whether artificial grass is worth its cost ultimately boils down to personal preferences and needs. 
Both natural and artificial grass lawn have their own set of advantages; for some individuals however, artificial turf might offer enough advantages that it warrants additional consideration.
Artificial grass has been developed over time to surpass its counterpart – natural grass lawn – in terms of quality and ease of maintenance. 
Artificial grass is perfect for smaller patches of lawn where you want beautiful green grass all year without much work!
If you find yourself with limited time or no desire to invest in lawn maintenance such as fertilization, watering, mowing and reseeding, artificial grass may be the ideal solution.
In case you choose to move forward with the installation, make sure to carefully consider the above mentioned 10 artificial grass pros and cons before making a decision best suited to you, your family and your pet.